Ma
gaz
ine

The most popular wedding dresses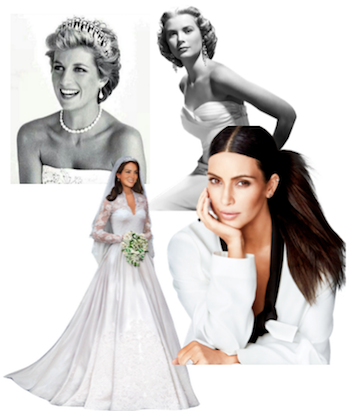 Princess Diana
When we try to remember the most famous wedding dresses, perhaps the first thing that comes to mind is a princess' Diana dress. This truly masterpiece, for a young Lady Di did two young British designers David and Elizabeth Emmanuel. Until the day of the wedding, no one but Diana and her mother haven't seen the outfit, and on June 29, 1981 a bride appeared in a luxurious dress made from ivory satin embroidered with diamonds and thousands of small pearls.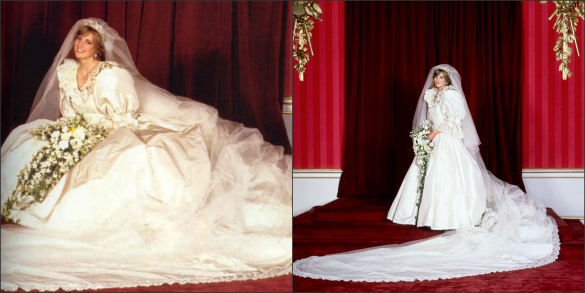 Special attention should be paid to eight-meter veil, decorated with vintage lace. In any case, there was a replica of the dress, which later was sold at auction for 175 000 dollars.
Grace Kelly
The wedding look of Hollywood diva Grace Kelly will not leave anyone indifferent. It has been more than fifty years from the date of her wedding with Prince of Monaco Rainier, but the girls all over the world want to look like her. She is a style icon for both brides and designers. Her wedding dress was created by Helen Rose the designer of MGM studio. 35 seamstresses were able to turn the extreme number of Valenciennes lace and taffeta into a masterpiece, which then became a museum exhibit. "Bell" skirt was both feminine and elegant, noble, but not too majestic.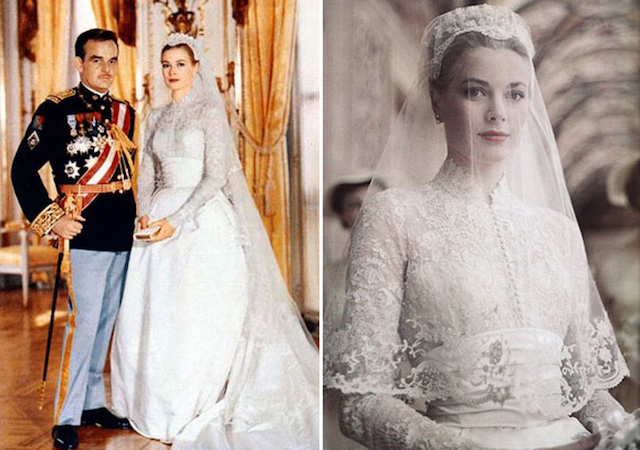 Kate Middleton
Duchess of Cambridge did not disappoint Lady Di and worthy entered the royal family. Of course, the Kate's wedding look and Diana's will compare many years, but the fact is that they both were perfect. In April 2011, the world saw a new British princess in "stylish and beautiful, elegant and discreet" white dress from Sarah Breton, who represented the fashion house of Alexander McQueen. Traditional symbols of Britain: English rose, Welsh daffodil, Scottish thistle, the Irish shamrock supplemented finest handmade lace.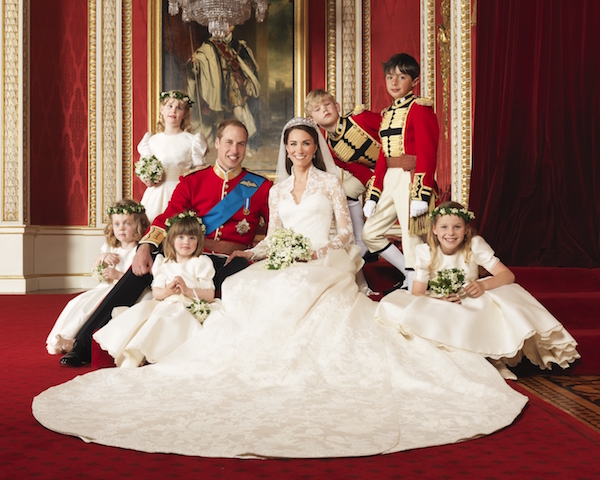 Behind dress there were 54 miniature buttons, and the length of the train is not like Diana's, but not small - 2,7m. A small tiara by Cartier kept the veil.
Kim Kardashian
The famous diva and selfie lover Kim Kardashian can draw a line of the most famous wedding dresses. The wedding dress was created by a family friend and creative director of Givenchy Riccardo Tisci.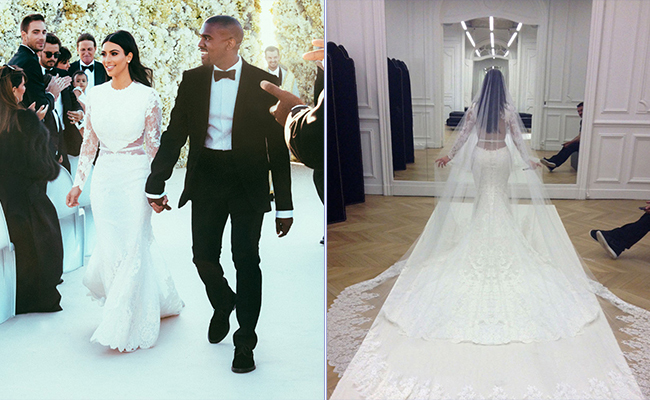 Dress was in Kim's style - slim figure silhouette, with lots of lace and a long train. Actually, she remembered once that she wanted the wedding dress as Kate Middleton's one, but the similar of these two dresses was only the color, lace sleeves and a long veil. On the back there was just fine lace, creating the effect of a naked body. Kim's wedding dress was generally elegant, modest and cost 300 thousand pounds.